· Step 1-Artwork Stage
During this stage of the screen printing process, our artists go to work creating innovative custom designs to fit each client's needs. They size the artwork to fit each position on the shirt, and then the client is contacted to finalize the design size, colors, and overall appearance. Once finalized, the design is broken into separate colors and printed on transparencies or plates. These transparencies are then passed on to the screen room for the burning process.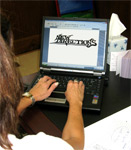 · Step 2-Burning to Screens
Transparencies from the artwork stage are taped to tightly meshed screens. These screens have already been coated and dried with a special light sensitive photo polymer screen emulsion. This emulsion turns very hard when exposed to light. The transparencies prevent light from hardening the polymer on designated parts of the screen when it is exposed on the burn table. The emulsion hardens in an exposure time of approximately 3-5 minutes. From here, the screen is taken to a high pressure wash tub where the unhardened portions of the polymer are blown out. This leaves a template screen that can be used to print shirts.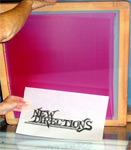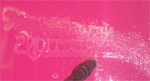 · Step 3-The Printing Process
The printing process is done on a printing press. The burned screens are attached to the top of each station and set to move up and down. The shirt is placed by hand onto a palette which rotates to each station. Once at a station, the screen moves down and a squeegee is drawn across the screen, pushing ink through the open mesh onto the shirt. At each station the shirt picks up another color until it has revolved around through the print cycle. Once the design is finished being printed it must be dried.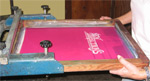 | | |
| --- | --- |
| | |

· Step 4-Drying & Completion
At this stage, the shirt is placed on a conveyor belt to run through a 350° dryer so the ink will cure. This prevents the ink from fading or washing out in the laundry. The shirts are then "caught" at the end of the dryer. From here, they are counted, inspected and then boxed. These boxes are then labeled to await pick-up by the client.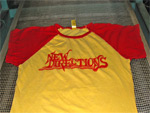 ---
Frequently Asked Screen Printing Questions:
What is the art charge?
Art charges are $30.00 per hour. Your customer service representative will be glad to quote an art charge for your job.
How do I proof my artwork?
Art must be approved prior to production. An email will be sent to you with the design or you can come in and proof the artwork at our location.
May I cancel an order?
Orders that have not been printed can be cancelled. However, restocking fees will be charged to cover the cost of sending the items back to the distributor. Artwork will be charged on orders that have been cancelled if they were cancelled after the artwork was completed.
What credit cards do you accept?
We accept Visa and MasterCard and American Express
Why is printing on dark shirts more costly than white?
Printing on dark garments is much more labor intensive than printing on light garments. It is often necessary to print an underlay ink onto the garment prior to printing the final ink color that you desire.
How is garment dyed apparel different than regular apparel?
Shade Variations are inherent in the garment dying process. Garment dyed goods should be washed separately in cold water before wearing. In addition, they are typically more expensive, due to the dyeing process.
What is the ink color change fee?
If your order requires changing ink colors in the design, there is a $12.00 charge for each screen which must be changed.
What's the minimum amount of shirts I have to order?
Orders which fall under minimum quantities will incur an additional $10.00 fee. The minimum order for screen printing is 12 pieces.
May I print on multiple styles or colors?
More than one style or color of garments may require additional screens and time to set up your job. Please contact your sales person for additional information.
Can you screen print numbers?
Yes, we are able to screen print numbers.
How do I pay for my order?
We accept cash, check, and charge: Visa, MasterCard or AMEX for payment. The name the order is placed in is who will be responsible for payment of the order. All checks should be written to them, and then they can write the finale check to New Directions or pay by cash or credit card. WE DO NOT ACCEPT MULTIPLE CHECKS FOR A SINGLE ORDER. In addition, all orders require a half down payment prior to the start of a job. The finally payment will be collected when the job is complete.
How will I receive my order?
Orders can be picked up at the New Directions office during store hours or shipped via UPS at the customers' expense.
Do you do PMS color matching?
We stock a wide variety of standard ink colors. If it is necessary to mix ink to match a specific color, there will be a $15.00 per color charge. A PMS number or color swatch must be provided. Due to variations in garment colors and reaction to dyes in certain colored shirts, some color variation should be expected.
What are your prices?
Please contact our staff for your custom quote.
What is spot color printing?
Spot color is the most common type of printing. Most logos and designs are printed using spot color, which uses specific colors such as Pantone matches (PMS). In most cases, spot colors are printed as solids, but sometimes halftones are created for toning effects. Spot color printing can not be used to achieve photographic images.
What is process printing?
Full color or 4 color process images are reproduced by a series of small dots called halftones and generally use a combination of the three primary colors- blue, red, yellow, to make cyan, yellow, magenta, and black (CYMK). For example, green is reproduced on the garment by combining yellow and blue dots.
What is your return policy?
We cannot accept returns on decorated or washed garments under any circumstances.
Do you do rush orders?
Rush orders are available on a case by case basis. Please call us today to see if your order can be fit into our production schedule. Rush charges do apply during peak business seasons.
How do I sign up for tax exempt status?
Sales tax cannot be taken off an account until New Directions has a signed tax exempt form with your tax exemption number on file. The tax exempt certificate name must be the same name as on the account. Individuals are not tax exempt.
Will I receive a printed sample?
Because of the labor intensive setup of screen printing, it is typically not possible to print samples. However, if you require a sample, please understand that it will significantly delay your order. In addition, you will incur a sample set up fee. Please contact us for information and charges.
What is the set up charge?
You will have a set up charge everytime we have to set the job up on the press. The more colors there are in the job, the longer the set up time. There is a $20.00 set up fee per color per location the first time you place a new job order.
Can I have my order shipped?
New Directions can ship your merchandise at the customer's expense. Standard UPS rates will be charged, unless otherwise requested.
What are your standard printing locations and sizes of imprint?
Adult garments- 3.5" square is our standard pocket area print size. If we're printing on pocket its 3" square. Back art is printed at 12" square. Youth garments- 3" square is our standard pocket area print size. Back art is printed at 9" square.
What are your terms?
Half -down on all orders is required before ordering any garments. The balance will be paid upon delivery of garments.
What is your turnaround time?
Our standard turn around time is two weeks from the receipt of your order and artwork approval. Rush orders are available but must be approved first. Therefore, please contact our staff.
---